Advent Prophecy Cards
A New Advent Tradition
Looking for a more meaningful Advent tradition that doesn't include candy or gifts? Check out our Advent Prophecy Cards — a unique way of celebrating Jesus' life each day in December.
This Christmas season, help your children believe that the Bible is true and reliable by giving them 23 amazing examples of fulfilled prophecies. Did you know that Jesus fulfilled over 300 prophecies? In fact, the probability that someone could fulfill just eight of these prophecies is one in 100,000,000,000,000,000,000,000,000,000,000! That's amazing, and just proves that He is our Savior!
By the foretelling of persons, places, and events — sometimes hundreds of years in advance — we can trust that Scripture is true and that God has a plan for this world. As we prepare to remember the birth of Jesus, let us enter into this season with awe at how He was revealed to us so long ago, and how He fulfilled what the prophets foretold about Him. Truly, He is the Son of God, our Promised Messiah — and the reason for the season!
Materials Needed
Prophecy cards, cut out and stacked in order by date (see download)

Fulfilled Prophecies sheet (see download)

Bible

Christmas tin (optional)

23 Envelopes (optional)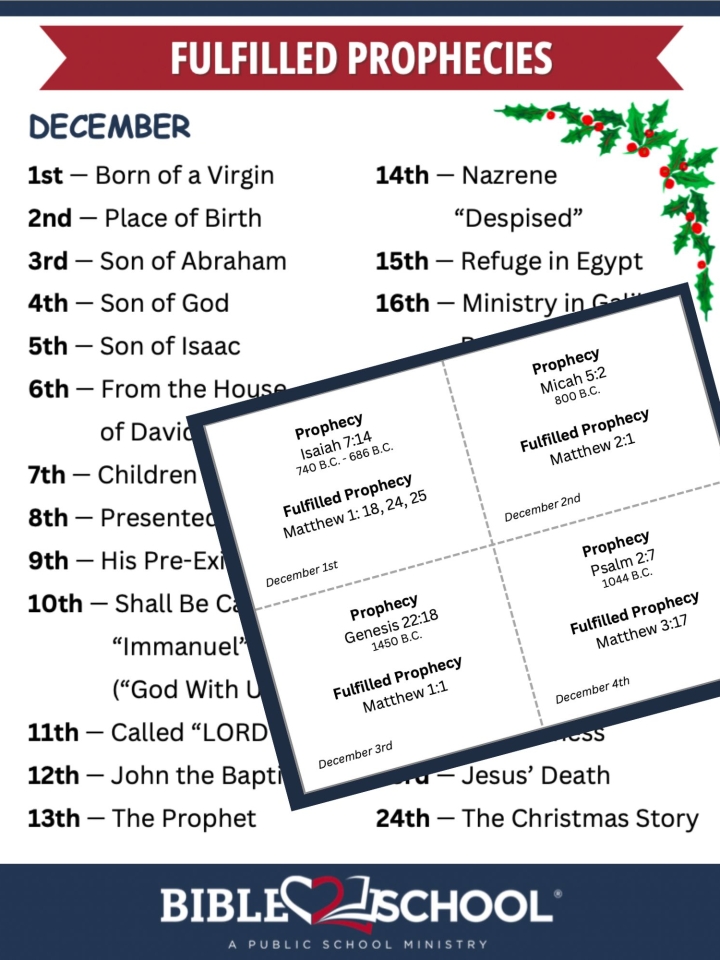 Download the 9-Page FREE Resource
This 9-page downloadable resource includes instructions, a guided conversation example, prophecy cards, and the fulfilled prophecy answer sheet. Have fun!
DOWNLOAD
Looking for More Great Resources?
Let Bible2School, experts in engaging children with the Word of God, help equip you in sharing God with the children in your life. We have a variety of resources designed just for you.
Our Staff's Christmas Traditions Round Table
Bible2School staff reflects on Christmas traditions that help keep Jesus the center of the season in their families.
Listen
Can Your Child Talk About Jesus in Public School During the Christmas Season?
In this blog, we talk about how we must take a stand behind our children's faith walk and remind them that they CAN take their faith with them through the public school doors — and YES, they can talk about Jesus at Christmas.
Read
Easter Egg Music Shakers
We must teach children how to worship and give them the tools to cultivate a worshipful life. So, grab your leftover plastic Easter eggs and make some joyful noise with your children by making these fun Music Shakers!
Learn More